Singapore Online Dating Through Statistics
There are several avenues to take up if one wishes to understand how online dating works and how it affects the modern dating scene. The most popular option is to try out dating apps yourself. Still, other singles may prefer to take a more logical approach before dealing with matters of the heart.
This is where dating statistics come in. Studying online dating statistics — like in Singapore — provides plenty of helpful insight regarding online dating popularity. This includes the reasons for using online dating and even the demographic known to use these apps and sites.
So, without further ado, let's take a look at the numbers.
Online dating in Singapore: What do the statistics say?
Before delving into the numbers that have to do with dating itself, let's first put things into perspective by looking at the proportion of singles among the Singaporean population.
Below is the data put together by the Singaporean government's Department of Statistics. The numbers have been divided into year range as well as age demographic.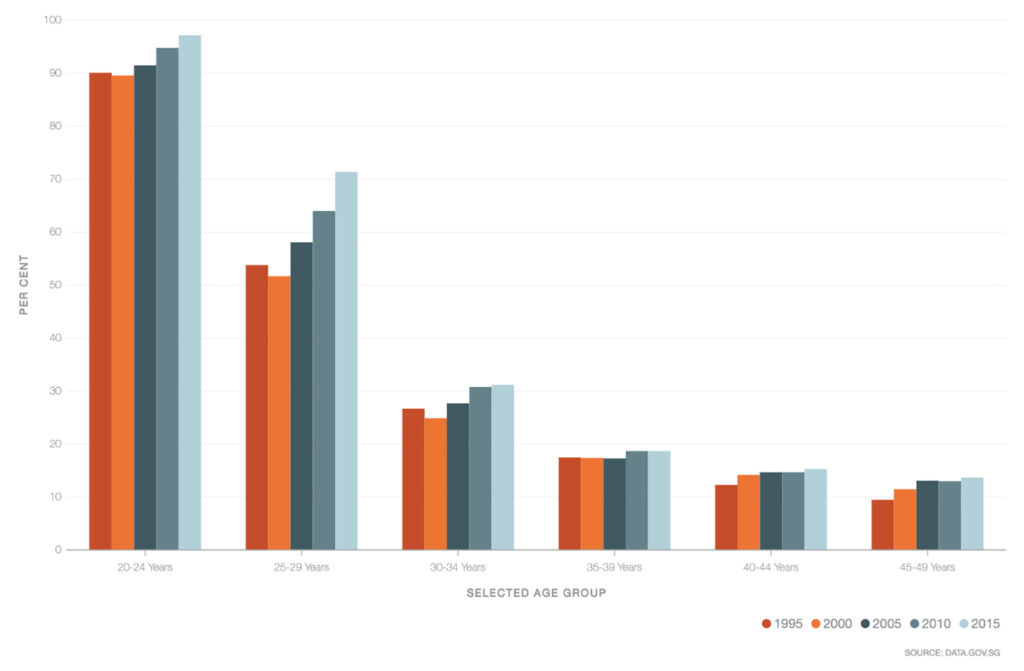 The lightest gray shade indicates the single population from 2015 to 2018. Judging by the graph, singles in their early twenties are much more common than people with no partners later in life.
Now, considering that those in their 20s are much more proficient in technology than their older counterparts, it's easy to form a misconception that they'll be more open to online dating as well.
Wrong.
Many Singaporeans, regardless of the age group that they're part of, find themselves hesitant to enter the world of online dating. There are many reasons why, of course, but the most glaring of all has to do with the culture they grew up in.
Singapore's culture is currently sandwiched between Western and Asian values, as well as old and new traditions. While the younger generation is much more progressive, it doesn't erase the fact that they were raised with conservative values.
So what, then, is online dating in Singapore based on statistics? Below you will discover the numbers in their online dating experiences.
Choosing between online or offline dating
With their traditional and conservative background, coming into the new wave of online dating has taken Singaporeans a long time before accepting it as part of their culture. To this day, online dating might still be considered taboo.
Milieu conducted a survey in Singapore asking Singaporeans if they preferred online or offline dating. The online dating statistics showed that half of them don't have a preference and wouldn't mind meeting people online. Meanwhile, the other half prefers to meet someone offline.
However, despite this, researchers have found that almost a third of Singaporeans actually use dating apps. So don't be discouraged because you will find Singaporean singles on dating apps.
Meeting new friends
In a traditional setup, many individuals would find love by meeting singles through classes, work, or even social events. Relationships that are based on this formula don't often hit it off with romance immediately. Instead, their romantic relationship stems from a deep friendship.
This is why it comes to no surprise that 61% of Singaporeans initially look for friendship instead of love in dating apps.
Coming in second at 51% are people who are looking for long-term relationships. Through these results, we can understand that you can find love in Singapore through friendship.
However, before celebrating too early, we also need to note that the reason behind using these apps differ between genders. In the same study, the researchers found that men are more likely to use online dating to find short-term relationships, even casual hookups.
Although not all hope is lost for singles looking to find long-term relationships. Those interested in men may need to exert more time and effort into finding the right person who shares the same values. But, it's not all bleak — plenty are also on the lookout for friendships and relationships based on the graph shown above.
Finding love
With the preference for traditional and organic romance instead of online dating, one may think that finding love online in Singapore is a hopeless case.

The question remains, "Is there a chance to find love online in Singapore?"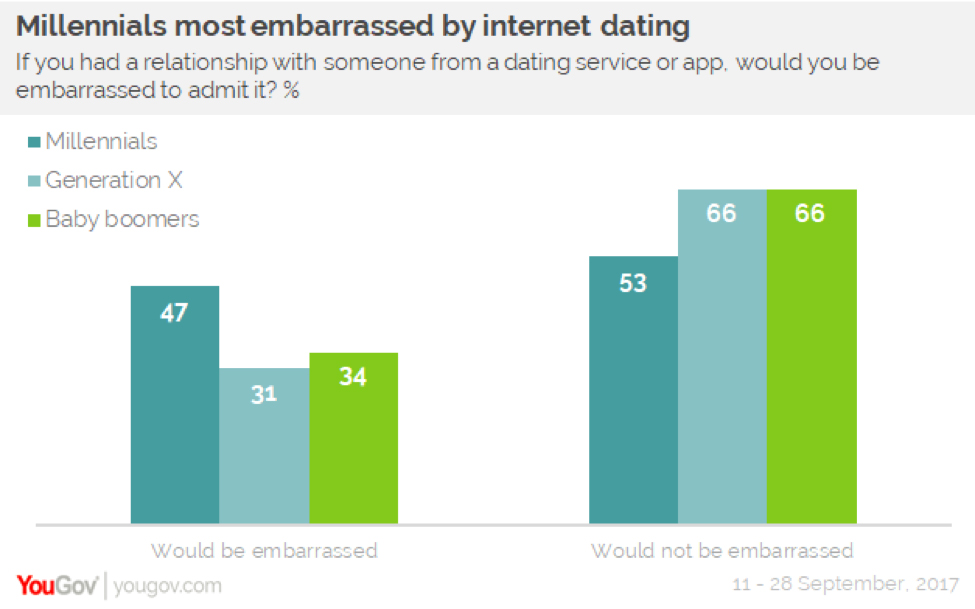 Well, according to researchers, nearly half of Singaporeans actually know at least one couple who met online!
And although some would still be embarrassed by admitting that they met a lover online, online dating statistics show that the chance of love online is still possible. You no longer need to hesitate to try online dating in Singapore!
In the end, whether it's love found online or offline, what matters is the love and happiness that you'll experience when you finally find the one. Because when this individual comes along, you will realize that other people's opinions on how you met will no longer matter.
Love is love, wherever you may find it.
Win at online dating in Singapore: How to improve your dating profile
Now that you know that finding love online is still possible through the dating statistics in Singapore above. It's time to boost your dating profile for Singaporean singles! Behind every online dating success story is a science behind the power of a great profile.

In reality, attempting to summarize your entire greatness as a person with just a few photos and a couple of words can be challenging. But, with these tips, you might get a higher chance of finding the right match for you.
1. Win with a smile
Win the chance of finding love online with your brightest smile! Studies have shown that having a photo on your profile that showcases your smile translates to having more swipes, thus having more prospects in your dating app.
Getting more swipes with a smile is particularly true, especially for Singaporean women. But despite the high number of likes, at the end of the day, what matters is finding someone you'll connect with.
2. Bios should be attractive
Just like your profile photos, bios should be made just as attractive. And what makes a bio attractive? Using the right keywords.
Self-deprecating humor is fun and all until you place it on your dating profile's bio. This means that speaking negatively of yourself on your bio, even as a joke, may decrease your chances of getting swiped right. On the other hand, using words like "Professional," or "Cultured," or anything that talks about you in a positive light can make your bio more attractive.
But remember, this is a dating profile, not a resume for a job application. Keep your bios short, positive and witty!
3. Let them know what you're looking for
A part of any dating culture is knowing what you're looking for. This applies to online dating as well.
So, when setting up your profile and having initial conversations with a potential date, it's always best to let them know why you're dating. Is it to find love? Meet new friends? Or is it just to find a temporary companion for a night?
Whatever purpose dating serves for you, laying down your cards on the table for your potential romantic interest will be great for both of you. This helps manage expectations. This can also filter out people whose interests don't align with yours, which increases your chance to meet your perfect match.
4. Let them know your heart's available
As for those who are dating to find love, according to researchers, your best bet to finding romance is actually letting the world know your heart's available.
Many can be very vague in their bios or during initial conversations, but to save time and effort from beating around the bush, use the L-word.
Some people might be afraid of love and run away as soon as you mention it, but if you aren't, let the world know. Chances are, you'll be able to find someone who is just as brave as you are to find love online.
5. Shared interest can be a bond
Of course, in the end, love and romance aren't handed to you at first swipe. Romantic relationships are built upon a solid friendship. And the best way to become friends with a potential romantic partner is to share an interest to bond over.
Have your interests on your bio or mention them during your initial conversations as a way to form a bond. After all, friendship, in all its essence, is the strongest bond humans can form.
Remember: Love takes time
So you've done everything right, from your profile photos that feature your wonderful smile to the perfect bio that captures your greatness to attempting to build friendships. And yet, it still doesn't work out.
Don't worry. It's not the end of your love story just yet. When something doesn't work out, remember that each person you'll meet throughout your online dating experience will be one step closer to the love of your life.